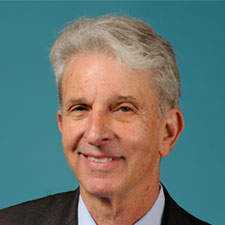 Michael Goldman
WSTC Chair
Michael Goldman is an attorney who resides in Potomac, Maryland. He is the managing partner with Silverberg Goldman, PLLC, a Washington, DC-based law firm that specializes in transportation law.
Mr. Goldman has practiced in this area for 30 plus years. He represents U.S. airports, U.S. and foreign airlines, and aircraft/drone manufacturers in regulatory matters before the DOT, FAA and DHS; antitrust/competition law issues before DOJ and DOT; international civil aviation negotiations between the U.S. and foreign countries; aviation related matters before the Congress; and litigation in state and federal courts.
Outside his law practice, Mr. Goldman was appointed by the Maryland Governor in 2013 to serve as one of the 8 voting Directors that run the Washington Metropolitan Area Transit Authority (WMATA), a regional authority that operates the Washington, DC-area Metrorail and Metrobus systems. Mr. Goldman currently serves as the Vice-Chair of the Board and Chair of its Safety & Operations Committee. He previously served as chair of the Board's Finance Committee (2015-17). Mr. Goldman also serves on the Board and Executive Committee of the American Public Transportation Association (APTA), the trade association for public transit authorities.
Mr. Goldman is also a published author on transportation subjects. His recent articles/publications include: "Brexit: A Transatlantic Aviation Perspective," ABA Air and Space Lawyer, Number 4, 2017; "The Case for an Enhanced and Updated International Air Transportation Policy," ABA Air and Space Lawyer, Winter 2013; "Congress, the FAA, and the Future of Unmanned Aircraft Systems (UAS)," ABA Transportation Quarterly, Summer 2012; "Beyond Open Skies: After Its 100th Open Skies Agreement, Where Does the U.S. Go From Here," ABA Transportation Quarterly, Winter 2011; Elections Do Have Consequences: the Case for a New US-EU Stage Two Agreement," ABA Transportation Quarterly, Spring/Summer, 2009, "Saving Open Skies," ACI-NA Centerline, Spring 2003; "Negotiating Not-Quite-Open-Skies," Journal of Commerce, July 22, 1997; Japan Aviation: Partly Cloudy," Journal of Commerce, January 26, 1998; "A Modest Proposal for a Short-Term U.S. International Negotiation Strategy," ABA Air and Space Lawyer, Winter 1994; and "Coded Warnings," Airline Business, January 1995, dealing with international code-sharing policies.
Mr. Goldman is currently an active member of the District of Columbia Bar, the American Bar Association sections on antitrust and administration law, and the Forum on Air & Space Law. He also is a member of the Aero Club and International Aviation Club in Washington, DC.
Mr. Goldman holds a J.D. from Harvard Law School and a B.A. from Temple University.