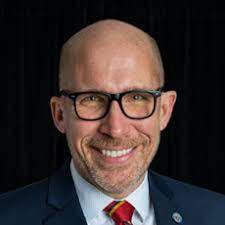 Hon. Tom Hucker
WSTC Commissioner
Councilmember Tom Hucker currently serves as President of the Montgomery County Council. Mr. Hucker was first elected to the Montgomery County Council in November of 2014. He is the Chair of the Council's Transportation and Environment Committee and serves on the Public Safety Committee.
Mr. Hucker is one of two Montgomery County representatives on the Board of Directors of the Metropolitan Washington Council of Governments. He currently serves as the Vice Chair of the Washington Suburban Transit Commission, the State body that oversees transit service in the National Capital region, including the Washington Metropolitan Area Transit Commission and MDOT.
Mr. Hucker's entire career has focused on making government more responsive and effective, first as a community organizer and environmental advocate, later as a nonprofit executive, and then an elected official. In 2006, Mr. Hucker was elected to serve in the Maryland General Assembly from Silver Spring and Takoma Park. He was overwhelmingly re-elected in 2010 and represented Montgomery County in Annapolis for eight years.
As a state legislator, Mr. Hucker successfully authored and passed over 40 laws, including groundbreaking living wage requirements, children's health initiatives, employee discrimination protections, wind energy expansion and other environmental reforms. While serving on the County Council, he has championed initiatives that have removed lead from school drinking water fountains, improved public transit, expanded solar energy, increased attainable housing and homeownership options, and transformed policing.
Mr. Hucker lives in Silver Spring with his wife Amy, a clinical social worker who works on behalf of at-risk children and families, and their two young children Sam and Will, who enjoy a language immersion program in the Montgomery County Public Schools.