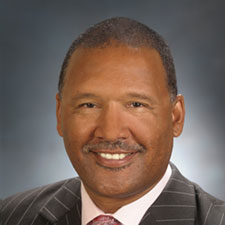 Thomas H. Graham
WSTC Commissioner
Mr. Thomas Graham retired from Pepco Holdings, Inc. (PHI) in June 2016. At the time of his retirement, Pepco Holdings employed more than 4,700 people, owned more than $16.1 billion in assets and generated approximately $4.8 billion in annual revenues. Pepco Holdings serves 2 million customers as the parent company of Pepco, an electric utility serving Washington, D.C. and suburban Maryland; Delmarva Power, an electric and gas utility serving Delaware and the rest of the Delmarva Peninsula; and Atlantic City Electric, an electric utility serving southern New Jersey.
During his 30-year career, Mr. Graham held several leadership positions that included President, Pepco region; Regional Vice President; Manager of Strategic Accounts (large commercial engineering design and construction); and Manager of Billing Services & Investigations.  His career at PHI concluded on the Executive Leadership Team as Vice President of People Strategy and Human Resources. During his tenure, Mr. Graham received numerous prestigious energy industry, business, higher education and civic awards.  In 2016, he founded a boutique government affairs, utility construction management, supplier diversity, and community relations strategic consulting firm: T.H. Graham & Associates. The firm is MBE and CBSB certified in Prince George's County.
Currently Mr. Graham serves as a Director for the University of Tampa, Washington Metropolitan Area Transit Authority (Alternate Director), Washington Suburban Transportation Commission (Chair), Green Branch Foundation (Chair), Boys & Girls Club of Greater Washington Prince George's County Chapter, Greater Prince George's Business Roundtable, 1st Tee Program Prince George's Chapter, Goodwill of Greater Washington, Summit Utilities and Midwest Reliability Organization. Mr. Graham has also served as the Chair of the Center for Energy Workforce Development and Maryland Chamber of Commerce. Other affiliations include American Association of Blacks in Energy (past D.C. Chapter President), Old Line Bancshares LLC, Prince George's County Economic Development Corporation, Prince George's County Liquor Board (Chair), and Leadership Prince George's (past President). Most recently, Mr. Graham was named Chairman of the Prince George's County COVID Forward Task Force for Economic Recovery workgroup.
Prior to joining Pepco, Mr. Graham played soccer professionally for the Jacksonville Tea Men and served as Goalkeeper Coach at Georgetown University for 20 years. In 2018, he was inducted into the St. John's College High School Athletic Hall of Fame. In 1988 and 2014, he was inducted into the University of Tampa Athletic Hall of Fame. Mr. Graham has a bachelor's degree in business administration from the University of Tampa. In 2005, he completed the Senior Executive Leadership Certificate Program at Georgetown University. Mr. Graham is an avid golfer and has two adult sons, Jordan and Jeffrey.