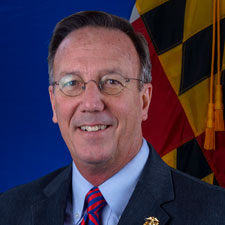 Secretary James F. Ports, Jr.
Maryland Secretary of Transportation
WSTC Commissioner Ex Officio
James F. Ports, Jr., was named Secretary of the Maryland Department of Transportation (MDOT) in January 2022, the culmination of a career in public service spanning more than 30 years, including transportation posts at the local, state and federal levels and service as an elected representative in the Maryland General Assembly.
As Secretary, Mr. Ports oversees MDOT's six transportation agencies – the State Highway Administration, Maryland Transit Administration, Motor Vehicle Administration, Maryland Aviation Administration, Maryland Port Administration and the Maryland Transportation Authority – and leads operations and maintenance of state highways and bridges, tollways, transit systems, motor vehicle licensing, Baltimore/Washington International Thurgood Marshall Airport and the Helen Delich Bentley Port of Baltimore. Secretary Ports also serves as Chair of the Maryland Transportation Authority Board, the Maryland Port Commission and the Maryland Aviation Commission, and is a member of the Washington Metropolitan Area Transit Authority Board of Directors.
Secretary Ports previously served as Executive Director of the Maryland Transportation Authority, responsible for constructing, managing, operating and improving the state's toll facilities, as well as financing new revenue producing transportation projects. The agency operates two turnpikes, two tunnels and four bridges, and is funded through tolls paid by the customers. Mr. Ports' tenure at the MDTA was highlighted by advancement of critical infrastructure and completion of projects on budget and often ahead of schedule. Projects completed early include the new Interstate-895 bridge in Baltimore, statewide conversion to All-Electronic Tolling and replacement of the Chesapeake Bay Bridge westbound right lane deck, which was accomplished in one construction season instead of two seasons as initially projected. Under Mr. Ports' leadership, the MDTA completed planning and began construction of the I-95 Express Toll Lane Extension in Harford County, launched construction of the new Governor Harry W. Nice Memorial/Senator Thomas "Mac" Middleton Bridge in Charles County, began a project to install a new gating system on the Bay Bridge to improve safety and traffic flow and advanced the Bay Crossing Study in its Tier 1 National Environmental Policy Act review.
Prior to the MDTA, Mr. Ports served as MDOT Deputy Secretary of Operations, working closely with all six department agencies. It was his second stint as a Deputy Secretary, having served in that capacity from 2004 to 2007 during the administration of Governor Robert L. Ehrlich, Jr.
Mr. Ports' extensive experience in multi-modal transportation and highway safety includes service as administrator and chief executive officer for Harford County Transit from mid-2009 to 2015. In this capacity, he was responsible for safe, effective and efficient operation and regulatory oversight of Harford County's transit service including fixed bus routes and demand response service for the elderly and persons with special needs.
Prior to Harford County Transit, Mr. Ports served the U.S. Department of Transportation as deputy administrator (chief operating officer) for the National Highway Traffic Safety Administration (NHTSA), 2007 to 2009. He was appointed by the U.S. Secretary of Transportation with confirmation by President George W. Bush. As deputy administrator, he managed the day-to-day operations of the agency and oversaw its 10 Regional Offices across the nation. As the second highest ranking highway safety official in the nation, he was recognized as a national and international leader in vehicle, behavioral and roadway safety.
From 1991 to 2002, Mr. Ports served in the Maryland General Assembly as a member of the House of Delegates. He was ranking member of the House Ways and Means Committee and served on numerous House-Senate joint committees and subcommittees, including the House Subcommittees on Transportation, Education and Taxes. He was elected by his peers to serve as the Minority Whip.
While in the House of Delegates and prior to his first appointment to MDOT, Mr. Ports was employed by the Baltimore Gas and Electric Company. During his 21-year career, he rose through the ranks and held various positions including supervisor of the Industrial and Commercial Gas Field Operations.
Mr. Ports grew up in Baltimore County, graduated from Perry Hall Senior High School and earned an Associate of Arts in Business Management and Administration from Essex Community College. He also attended the Program for Emerging Political and Business Leaders at the University of Virginia Darden School of Business in 1993, as well as a program at the Flemming Fellows Leadership Institute in 1997 and Executive Leadership Training at the Harvard University John F. Kennedy School of Government in 2006.
Mr. Ports served in the U.S. Marine Corps as a Sergeant (E5) and was a Crew Chief on a CH-46 Helicopter. He is a life member of the VFW and the Marine Corps League and is a Disabled American Veteran. Throughout his life, he has served in many capacities for the benefit of his nation, state and community. Mr. Ports is an avid soccer fan. He and his wife Linda have enjoyed coaching and watching their three children, Chris, Jon and Kelsey, play various sports.